The children in Nursery have made images that represent the world using pipettes and ink on material. They talked about the green bits being where people live and the blue the water where animals live.
Galleries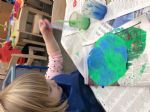 World
World Hello Day 2020
World Hello Day has been a great success again this year with children learning about a wide range of countries, cultures and traditions. As usual all classes chose a country from which someone in their class originated. The countries chosen included Mexico, Poland, Spain, Italy and Vietnam.
Due to the current global situation all activities took place within the classrooms and have been shared virtually. Key Stage 2 classes have made some fantastic films to show what they learnt about their chosen country whilst Early Year and Key Stage one used Google classroom to say hello to each other in their countries language.
4C
6F
6M
3K
Galleries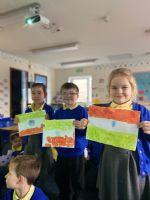 World Hello Day 2020
Children in Early Years enjoyed dressing in traditional Chinese outfits while they used their fine motor skills to explore chopsticks in the role play. They also had a go at writing some Chinese symbols, listened to a story about a Little Chinese boy who loved noodles, tasted traditional Chinese food, made up dragon dances, made money pockets and watch film clips about how people celebrate Chinese New Year.
Galleries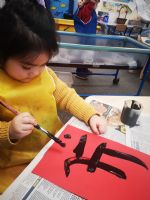 Chinese new year
World Hello Day is celebrated on the 21st November every year. At Bishop King it is an important day in our school calendar. It focuses on bringing people together through using language and communication to break down boundaries and resolve conflict. We use it as an opportunity to not only learn about new cultures but celebrate our diverse community.
Galleries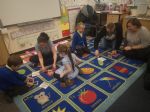 WorldHelloDay