Breakfast Club
Breakfast Club is available from 7.50am and the gates close at 8.20am. The cost is £2 per child.
If you would like your child to attend, please follow the path to the school hall, where a member of staff will greet you. Booking is not necessary at the moment.
After School Clubs - At Bishop King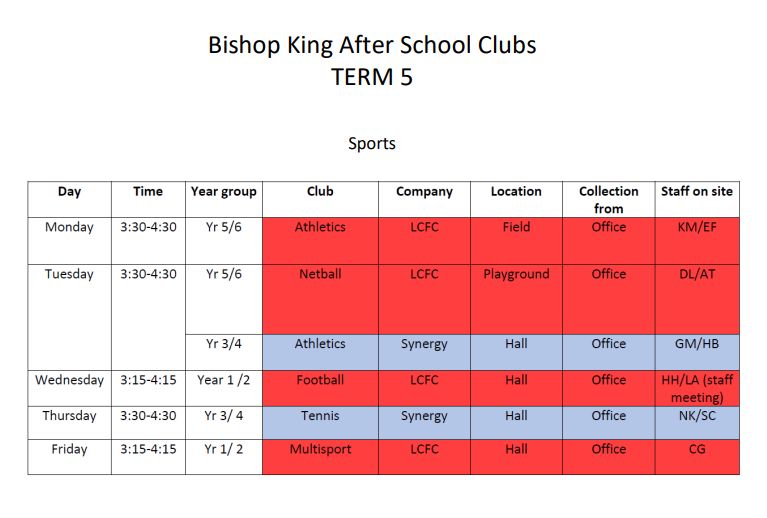 Lincoln City Foundation - After School Club
Since September 2017, Lincoln City Football Club have been delivering the after school clubs at Bishop King C of E Primary School for both Key Stage 1 and Key Stage 2 children through Lincoln City Foundation.
The after school club provision aims to offer children in both Key Stage 1 and Key Stage 2 the chance to take part in structured activities. The activities on offer will provide children the chance to be active and experience activities they may not have participated in before. The club works closely with the school to ensure that we develop a strong working relationship, plus it is important to us that we develop positive links with parents. We want to make sure that we create the most positive environment for the children.
September 2020:
We are very pleased to be able to offer Ofsted approved after school provision at The LNER Stadium.
Lincoln City Foundation regularly work with school aged children and provide opportunities for holistic development. We have trained staff who are all DBS checked and we have excellent staff to child ratios. The provision will be situated in our classrooms behind the Co-Op Stand, adjacent to the Sincil River. This will be signposted with The Lincoln City Foundation Logo.
The children will be collected by a Lincoln City Foundation staff member from school. They will also be escorted by a Bishop King staff member, who will sign them in to the after-school club and ensure that the child has been safely transferred from school to the stadium.
If you are dropping off your child directly then please sign in on the register upon arrival. Parents/guardians must sign their children out at the LNER stadium when they are being collected.
We offer activities such as:
Football, Tennis/Mini Squash, Athletics, Colouring, Basketball/Netball, Cricket, Gymnastics, Puzzles/board games, Handball, Rounders, Dance, Lego, Hockey, Badminton, Multi-sport skills, Movie day, Tag rugby, Archery, Dodgeball, Ten-pin bowling, Tag and invasion games, Tri-Golf / Street Golf, Lacrosse and Boccia.
To sign up, the booking forms must be completed and returned on the Friday before the next term begins. The booking form is below, as are the terms and conditions – please read the whole form and sign all paperwork as requested.
They can be returned via email: asc@lincolncityfoundation.co.uk or they can be sent in by post to:
Lincoln City Foundation
Ofsted After School Clubs
LNER Stadium
Lincoln
LN5 8LD
We only charge £3.50 for one hour and £5 for two hours of childcare, for payment options, please see the terms and conditions.
Lincoln City Foundation - Booking Form