Safeguarding at Bishop King Primary School
Child Protection and Safeguarding Policy
Who to contact:
Please call 01522 880094 or please email louise.henry@bishopking.lincs.sch.uk
Our Safeguarding Team:
Designated Safeguarding Lead: Mrs H Wheatley (Headteacher)
Deputy Designated Safeguarding Lead: Mrs C Gaskell (Deputy Headteacher
Deputy Designated Safeguarding Lead: Mrs L Henry (Safeguarding and Attendance Officer)
Safeguarding Governor: Mrs C Moore
Bishop King CE Primary School is committed to safeguarding and promoting the welfare of all the children in our school and expects all staff and volunteers to share this commitment. We believe that students have a right to learn in a supportive, caring and safe environment which includes the right to protection from all types of abuse; where staff are vigilant for signs of any student in distress and are confident about applying the safeguarding processes to avert and alleviate any such problems.
Safeguarding is about ensuring that everyone is safe from harm – safe from bullying, safe from people who could abuse, safe from discrimination or harassment – and that we all feel safe in our environment. This means that we have a Safeguarding and Child Protection Policy and procedures in place
Safeguarding and Child Protection Policy
E-Safety Policy
Prevent Policy
Sometimes we may need to share information and work in partnership with other agencies when there are concerns about a child's welfare. We will ensure that our concerns about our pupils are discussed with his/her parents/carers first, unless we have reason to believe that such a move would be contrary to the child's welfare. If a member of staff is concerned about a child's welfare, they will record their concern, and any observations or conversation heard, and report to one of the DSLs as soon as possible the same day.
If a member of staff has concerns which relate to the actions or behaviour of another member of staff (which could suggest that s/he is unsuitable to work with children) then this will be reported to the Headteacher (or the Chair of Governors if the concern relates to the Headteacher) who will consider what action to take.
If you are ever concerned about the safety or well‐being of someone at our School please talk to one of the schools Safeguarding Team.
Alternatively, if you believe that a child or adult may be a victim of neglect, abuse or cruelty call:
· Children's Safeguarding – 01522 782111 (Monday to Friday, 8.00am to 6.00pm)
· Emergency Duty Team, Out of hours, after 5.00pm until 8.00am and weekends. – 01522 782333
You do not need to know everything about the situation. You may just be worried or feel that something is not right.
If you believe that a crime has been committed and there is an immediate risk of danger, call the police on 999 or 112. If there is no immediate danger, call the police on 101.
People who are deaf, hard of hearing or speech impaired can use the police typetalk service on:
· 01522 558263
· 01522 558140
· 07761 911287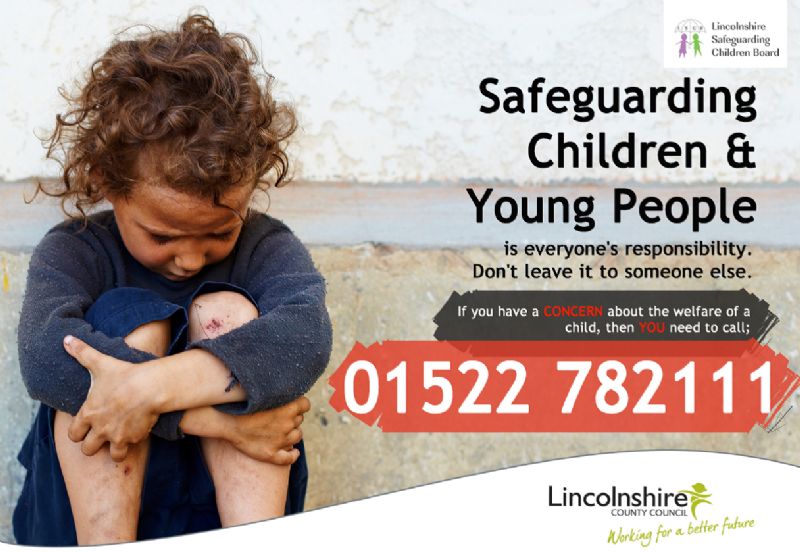 If you have a concern about domestic abuse, call EDAN Lincs on 01522 510041.
Useful External Links
· Keeping Children Safe in Education 2021
· Working Together To Safeguard Children 2018
· The Prevent Duty
· Information sharing; advice for practitioners providing safeguarding services to children, young people and carers
· FGM Mandatory Reporting
· What to do if you're worried a child is being abused
You can also contact the NSPCC in a variety of ways.
What to do if you're worried about a child
If you're worried about a child, even if you're unsure, you can speak to tNSPCC about your concerns. Whether you want to report child abuse and neglect or aren't sure what to do, they are there to listen, offer advice and support and can take the next steps if a child's in danger.
Their telephone lines are open Monday to Friday 8am – 10pm or 9am – 6pm at the weekends. You can contact them online or by email 24 hours a day, 365 days a year.
Call 0808 800 5000
It's normal to feel anxious, nervous or unsure about getting in touch with us. They're here to help and take that worry from you. Letting them know you're worried about a child could be the first step to helping protect them from a lifetime of abuse and neglect.
If you're using a mobile device/tablet and are experiencing difficulties completing the online form, please try using a computer, or call on 0808 800 5000, or email help@nspcc.org.uk to report your concern.
If a child is in immediate danger, call the police on 999 straight away.
Reporting child abuse anonymously
There are lots of reasons why someone might want to remain anonymous when contacting NSPCC. You don't have to tell them who you are, where you live or share your contact details. If you do choose to share any of these details, you can tell us not to share them with other agencies – like the police or social services.
If they think a child could be at risk they have a duty to share information that you provide with other agencies. But will respect your wishes around remaining anonymous. If you'd like to find out more about remaining anonymous, please do get in touch - call 0808 800 5000, or email help@nspcc.org.uk.
Safeguarding - Useful Links
Page 1 -
showing articles 1 to 1 of 1