Curriculum
We pride ourselves on providing a curriculum for life which is driven by our school mission statement of 'Dream big, love God and live well'.
Through our church school values, we inspire and motivate children to raise aspirations and promote a sense of personal pride in achievement.
Our curriculum is balanced, broad and develops the whole child and is rich with hands on experiences, transferable skills and deep rooted knowledge. Healthy lifestyles and emotional well-being are a key priority. Every child is recognised as a unique individual and we celebrate and welcome differences within our school community.
We teach key skills through discrete subjects built around the principle of greater learner involvement, with a key emphasis on the enrichment of vocabulary and language. Our pupils acquire and retain knowledge well because teachers ensure every lesson is underpinned by precise learning intentions understood by all. The use of innovative approaches ensures that learning is memorable.
Community involvement is an integral part of our curriculum, inviting families and visitors to facilitate learning and share experiences. Our curriculum dedicates time to securing skills that will ensure our children are fully prepared for life beyond primary school and are aware of how they can contribute and understand their local and global community.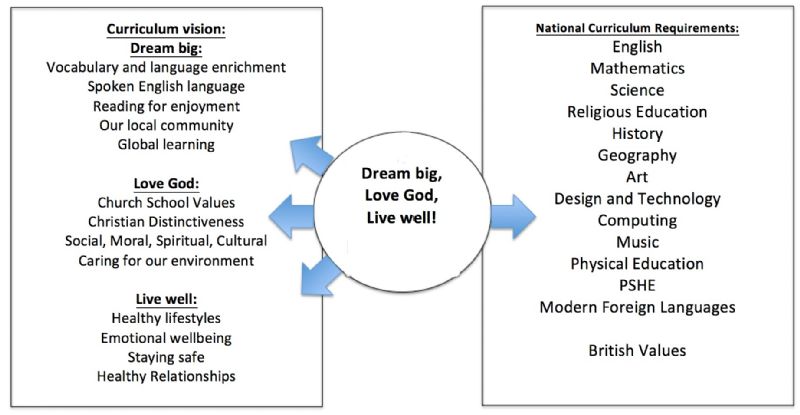 Additional information on the curriculum can be found here: Overview of the National Curriculum
KS1 Phonics - We use "Read Write Inc" to support the teaching of Phonics. For more information please CLICK HERE

Foundation Stage Yearly Curriculum Overview 2019-2020
Year 1 Yearly Curriculum Overview 2019-2020
Year 2 Yearly Curriculum Overview 2019-2020
Year 3 Yearly Curriculum Overview 2019-2020

Year 4 Yearly Curriculum Overview 2019-2020
Year 5 Yearly Curriculum Overview 2019-2020
Year 6 Yearly Curriculum Overview 2019-2020