RE & Collective Worship
RE Long Term Curriculum Overview 2021-2022
RE Intent, Implementation and Impact Statement 2020-21
RE Self Evaluation Form updated regularly by MIss Knapp
Term 1 Fact Files:
Sacred Space Day
Pupils from across the school have had the opportunity to visit our sacred space linked to the value of peace. There were activities in both the Bamboo Room and the Peace Garden. These activities allowed pupils time to reflect and pray on the value of peace. What it meant to them? How it can be achieved? What it feels like when lost?
"I felt peaceful when I was colouring because I was thinking about God" - Year 2
"I felt sad for the refugees around the world." - Year 3
"I felt calm writing the names of Jesus because it made me feel closer to him." - Year 3
"When the disciples were scared Jesus helped them to find faith and peace." - Year 3
"I really enjoyed the dove activity. What I did for it were vines coming off the word peace, meaning peace is with you always." - Year 6
"The sacred space was a great experience because it was a time to gain peace in our souls." - Year 6
Galleries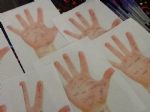 SacredSpaceDay19
Holy Communion - June 2019
Father Joseph Snelling led the whole school in Holy Communion both staff and pupils took the opportunity to take part in the Eucharist. Holy Communion is held three times a year at Bishop King CE Primary.
Galleries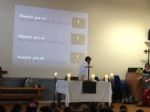 Holy Communion
Compassion Sacred Space Days
The Bamboo Room was set up with a range of different prayer stations linked to the theme of compassion. Pupils from Reception to Year 6 visited the sacred space and took time to participate in several of the activities.
"We shouldn't hurt people, everyone needs to be kind" Y1 pupil The Good Samaritan prayer station
" I liked having the time to think about compassion, homeless people and refugees" Y3 pupil
" I made a pipe cleaner person and thought about how I could show her compassion" Y4 pupil
" I think the sacred space made me think about who I am and helped me to pray for the unfortunate" Y6 pupil
Galleries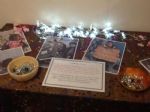 Compassion
Remembrance Day
Our Collective Worship Council led us in worship about Remembrance day and why we celebrate it each year. Pupils across the school made their own poppies, which they wore to the service. Pupils in Key Stage 2 also created art work and wrote poems about why we remember.
Galleries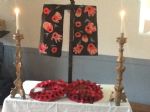 Remembrance Day 2019
Year 6 Church School Festival
We attended the Church School Festival with around 17 other schools from Lincolnshire. During the morning we took part in drama and bee keeping activities, as well as having a tour of the Cathedral and participating in a choral workshop. After lunch, we attended a service to celebrate how we worship and are all part of the Christian community.
(pics to be added)
Page 1 -
showing articles 1 to 5 of 5